First One Away – 'John'
Paul desperately tries to get away from a lads night out. But in order to do so, he must play by the 'rules' and tell the group a story.
Director : Zak Harney
Production : Panikz Productions
Starring: Dan Skinner, Angus Imrie, Andrew Rolfe, Robbie Scotcher, David Chappell, Brendan Wyer & Rebecca Day
"Pleasure working with @david_chappell_ His comedy timing is something to behold" – Zak Harney, Director
WINNER: Best Editing @ The British Short Film Festival

---
Three Couples Freed [Feature] – Josh
​​​​Was the life we chosey the life we imagined and dreamed of? Or is the life we have the life we truly deserve?
Three separate couples each decide to make some important decisions on the future of their relationships. Stumbling and searching they try to find their own alternative and drastic paths to happiness.
Director : Geoffrey Pheasant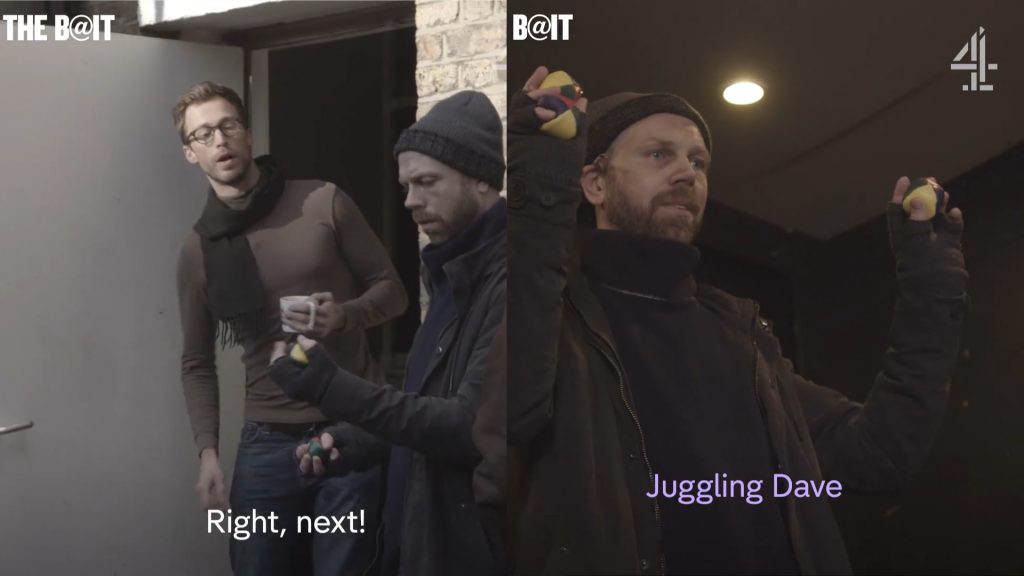 THE B@IT Homeless Talent Show – 'Juggling Dave'
Short satire sketch for Channel4's THE B@IT series. Exploring the theme of exploitation, social media and the rise of the modern talent show genre.
Director : Mother's Best Child
It Was Just F*cking Pasta – 'David'
When 'David' unwittingly becomes a meme phenomenon – his world is turned upside dealing with the consequences. Short film shot on multiple locations with Ravensbourne University.
Director : Francesco Imbimbo
A House Divided – 'Dad'
Short film exploring the theme of domestic abuse – filmed on location in London with students from Ravensbourne University.
The Briefcase – 'Bryan'
Short film shot on location with MDX University. A series of short scenarios linked together by the exchanging of a mysterious briefcase.
Director : Jamie Allan